PEMKO® Anti-slip Tape by DTAC
The PEMKO® range of self-adhesive anti-slip tapes by DTAC are durable, chemical and oil resistant PVC tapes with 80 grit silicon carbide for high slip resistance.
Completely retro-fittable, the DTAC anti-slip tapes provide a practical and ease-of-install approach to prevention and protection.
Tested and certified with a slip rating of P5 to:
AS 4586 Appendix A: Wet Pendulum Test
Available in solid black, yellow and black with a luminescent strip.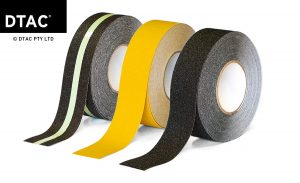 If you have any questions in relation to the DTAC range, DTAC is ready and able to assist you in getting it right. We can help interpret and apply the relevant standards and codes and design, manufacture and install solutions to your project requirements.