DTAC Stair Edging Systems for Carpet
DTAC's range of stair treads and edging have transformed the manner in which you can detail a stair edge with carpet. Suitable for new works or retro fit, the DTAC edging series provide a practical and aesthetically pleasing approach to prevention and protection.
The unique registered design accepts carpet thickness of 6 – 10mm and comes with colour matched escutcheon plates for stairs with exposed ends.
Available in several designs and Grip ratings of between R10 and R13 to suit any application
Tested and certified to:
AS 4586 Appendix A: Wet Pendulum Test
AS 4586 Appendix B: Dry Floor Friction Test
AS 4586 Appendix C: Wet/Barefoot Ramp Test
AS 4586 Appendix D: Oil/Wet Ramp Test
AS 1428.1 Appendix B: Design for Access & Mobility
AS/ISO 9239.1: Reaction to Fire Tests for Floor Coverings (Urban Design)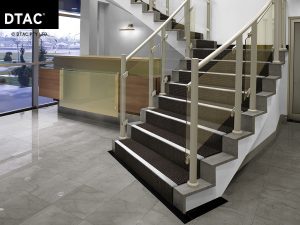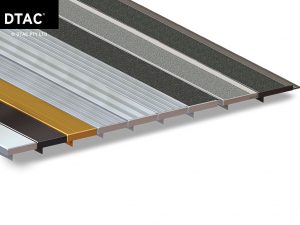 If you have any questions in relation to the DTAC range, DTAC is ready and able to assist you in getting it right. We can help interpret and apply the relevant standards and codes and design, manufacture and install solutions to your project requirements.